Point-of-Care MRI Applications
click to open link

Portable MR imaging in ICUs.
A Swoop system in an intensive care unit enables timely neuroimaging at the point of care, eliminates the need to transport critically ill patients to radiology, and reduces the time required to coordinate clinical schedules and support staff.
click to open link

Portable MR imaging in pediatric facilities.
An open and safe design allows family members to stay close, provide comfort during neuroimaging, and even hold their loved one's hand. The Swoop system also eliminates the risk of ionizing radiation for pediatric patients—a concern with CT imaging.
click to open link

Where to find the Swoop Portable MR Imaging System.
Medical professionals use the Swoop Portable MR Imaging System at facilities worldwide. Find one near you.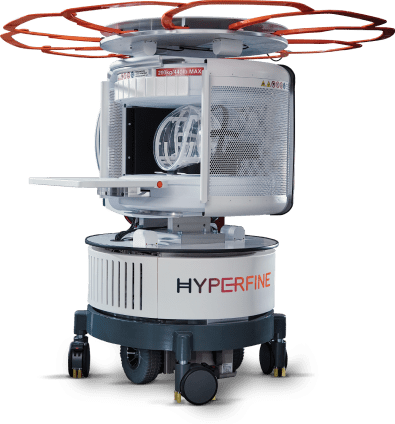 Big tech in a small package.
The Hyperfine Swoop system is the only portable MRI that can move to your patient's bedside at the point of care, plug into a standard electrical outlet, and acquire critical neuroimages within minutes. No waiting. No patient transport.
Follow this blog to keep up to date on the latest posts.
Thank You!
We will send you updates when new stories are published.