Missouri Baptist Medical Center Lean Analysis: The Implementation, Utilization, and Impact of a Portable MRI System
In January of 2023, Missouri Baptist Medical Center acquired a Swoop® Portable MR Imaging® system. After implementation of the system, they undertook a lean analysis to explore the impact of the portable MRI (pMRI) system on their neuro ICU, evaluating pre- and post-implementation processes and comparing conventional MRI and pMRI workflows.
The radiology team led the pMRI system implementation at Missouri Baptist Medical Center, collaborating with the neuroradiology and ICU teams to develop an effective implementation program and improve workflow and utilization. A lean consultant provided healthcare process expertise and evaluated the current workflow. The project aligned with lean principles, addressing defects, wait times, overproduction, overprocessing, motion, transport, inventory, and human talent, aiming to optimize patient care and enhance workflow efficiency.
Key project objectives included:
Evaluating pMRI turnaround time (TAT) compared to intrahospital transport of ICU patients to radiology.
Measuring time for patient transport to radiology versus bringing the pMRI system to the patient's bedside.
Assessing costs associated with pMRI implementation.
Evaluating the impact on the healthcare system by keeping patients in the ICU environment instead of intrahospital transport to radiology.
The analysis included items such as time measurement, clinical workflow mapping, cost analysis, and response time analysis to assess the impact of the pMRI system. The team utilized pre-implementation data from the EMR system and interviewed physicians and staff from different departments. Minor adjustments were made to the hospital's value stream map based on observations, ensuring minimal impact on time and cost estimates.
Stakeholder meetings provided insights from various departments—radiology staff identified a need to understand the technology better, while ICU physicians initially had concerns about pMRI scan quality. Training programs addressed these issues. Improvement suggestions included automatic protocols for pMRI scans and a training program to enhance radiology report consistency.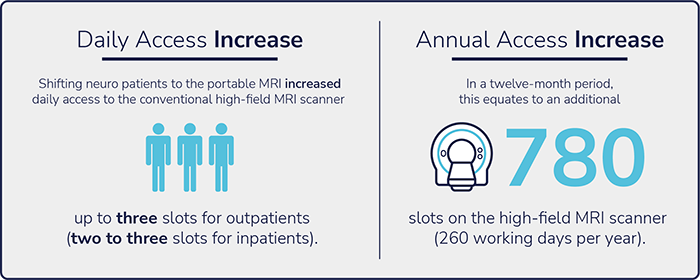 Data analysis revealed that the pMRI system effectively met patients' needs, reducing the requirement for intrahospital transport to conventional MRI. Implementing pMRI improved efficiency, reduced resource strain, and enhanced patient safety. The analysis projected that increased pMRI utilization would decrease consumable costs associated with conventional high-field MRI and increase availability.

Recommendations included enhancing pMRI image interpretation training for neuroradiologists, expanding clinical training for MRI technologists, initiating cross-departmental training programs, setting up the EMR system for distinct pMRI ordering processes, and developing quality metrics programs to optimize MRI scan utilization.
Missouri Baptist Medical Center successfully implemented the pMRI system, improved workflow efficiency, reduced patient transport, and enhanced patient care. Collaboration with Hyperfine, Inc. established a pMRI program, positioning them as a center of excellence. The findings and recommendations offer insights for healthcare systems aiming to optimize processes and implement innovative technologies for better patient outcomes.

Learn More
We invite you to access the lean analysis document or view our webinar with Missouri Baptist Medical Center team members. We also invite you to explore our website to learn more about the benefits of the Hyperfine, Inc. Swoop Portable MR Imaging system.
click to open link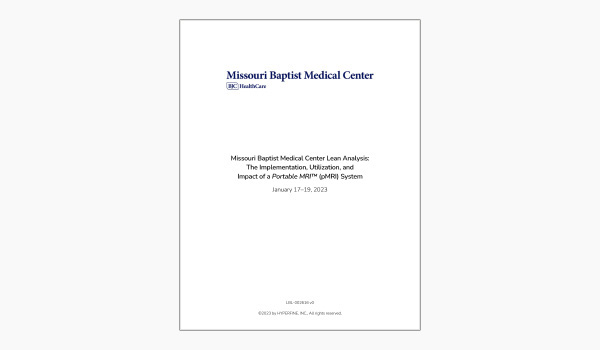 Missouri Baptist Medical Center Lean Analysis: The Implementation, Utilization, and Impact of a Portable MRI (pMRI) System
click to open link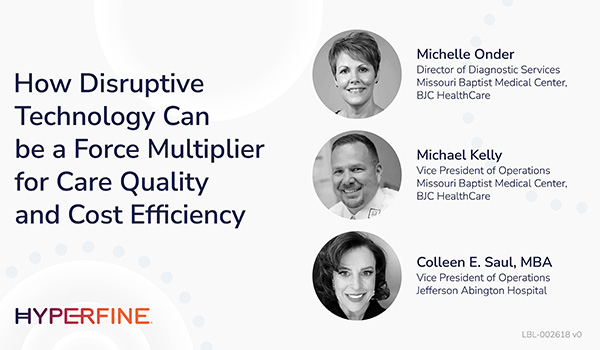 Webinar: How Disruptive Technology Can be a Force Multiplier for Care Quality and Cost Efficiency
Follow this blog to keep up to date on the latest posts.
Thank You!
We will send you updates when new stories are published.