Neuroimaging Needs for Stroke Follow-up and the Swoop® System—the World's First FDA-cleared Portable MRI™ System.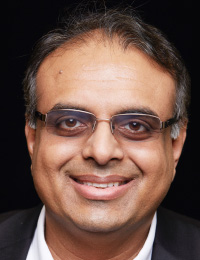 Recently, Hyperfine, Inc. Chief Medical Officer and Chief Strategy Officer Khan Siddiqui, MD, joined David Dansereau and Michael Garrow, hosts of the Know Stroke Podcast, to discuss neuroimaging needs for stroke follow-up and the Swoop system—the world's first FDA-cleared Portable MRI system. In this podcast, Dr. Siddiqui speaks about his experience before joining Hyperfine, Inc., the genesis of the Swoop system, and the benefits of portable, point-of-care, ultra-low-field MR imaging.
When discussing magnetic resonance imaging (MRI) as a clinical tool, Dr. Siddiqui shared, "We think MR is just one modality, but they are multiple, right? There are MR scanners of different field strengths that are used for different applications. There are MR scanners dedicated for just knee imaging, for example. There are MR scanners dedicated to baby imaging—neonatal scanners. There are MR scanners designed for use in the operating room—these gigantic machines hang from the ceiling … I would say about ten different types of devices are used. And they just become a tool, all the arsenal in the clinician's pocket to use to address different needs in routine care scenarios. [Swoop] is a brand-new category of portable point-of-care MR that you bring into the patient's bedside."
Later, Dr. Siddiqui discusses several benefits of the Swoop Point-of-Care MRI™ system, "Number one is, our screening protocol is simpler. Number two is you're reducing the transport-related time. A [Swoop system] can sit in the ICU and literally drive from that closet into the patient's room … You save hours of time overall … The faster you can make those decisions, the faster you have better outcomes. So it's a win-win for everybody. It's a win for the clinicians, a win for the nursing staff, a win for the patient, and a win for the hospital administration."
When addressing how the Swoop system benefits a radiology department, Dr. Siddiqui said, "A typical ICU patient takes three slots in an MR scanner because of the complexity of setting the patient up … They could do three outpatients at the same time to do one inpatient … throughput is more important in my mind to get more and more patients done."
We invite you to listen to the full interview with Dr. Siddiqui below. We also invite you to explore our website to learn more about the benefits of the Hyperfine, Inc. Swoop Portable MR Imaging® system.
To learn more about the Know Stoke Podcast, please visit https://www.knowstrokepod.com/podcast.
Listen to the Know Stroke Podcast
Follow this blog to keep up to date on the latest posts.
Thank You!
We will send you updates when new stories are published.