Pediatric Hydrocephalus: Imaging Needs for a Chronic Disease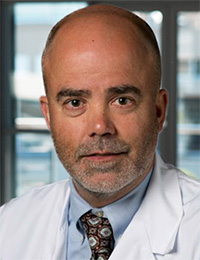 Recently, Nationwide Children's Hospital Chief of Neurosurgery, Jeffrey Leonard, MD, joined us to discuss the imaging needs of pediatric hydrocephalus patients and the potential impact of point-of-care MRI. In this one-hour webinar (linked below), Dr. Leonard discusses patient identification, current workflow problems, CT scan impact on radiation-induced secondary malignancies, and how the Swoop® Portable MR Imaging System™ can help fill unmet patient needs. Following Dr. Leonard's presentation, he and Hyperfine Senior Medical Director Dr. Eddie Knopp respond to questions from the audience.
During the webinar, Dr. Leonard shares, "So why do we care about how we image these children? We care about how we image these children because we don't like them to get radiation. This is a chronic disease process … with the youngsters here, when their age at shunt is less than one year of age … you can see they're getting a whole lot of CTs. Why is this important? This is important because they don't get low-grade tumors. They don't get arachnoid cysts. They get high-grade tumors when you deliver radiation to a greater frequency, especially in these really young kids."
Later in this webinar, Dr. Leonard discusses shunt revisions and repeated radiation exposure from CT scans. "There is a high risk of shunt failure due to either malfunction or infection. And the rates of failure and infection can get up to 40 to 50% within the first two years after insertion. This means we're going to require imaging studies, especially in really young kids. Now, the risk of shunt infection is 4 to 17% per procedure, highest during the first six months after insertion. Multiple shunt revisions increase the risk for future infections ... we do have situations where we need to repeatedly image these children. And trying to reduce the amount of radiation that we expose them to is going to be exceedingly important in the children's overall outcome."
We invite you to view the webinar below and learn about the potential for the Swoop Portable MR Imaging System to impact the lives of young patients around the world.
Disclosure: Dr. Leonard is a paid consultant for Hyperfine.

Follow this blog to keep up to date on the latest posts.
Thank You!
We will send you updates when new stories are published.