[Upcoming Webinar] Point-of-Care MR Imaging™ for the Neurocritical Patient: A Case-Based Review • Dec. 13th, 4pm ET Register Now
×
Medical imaging for everyone.
Partner with us.
"The goal of our global health initiative is to democratize healthcare by making MR imaging accessible to everyone around the world."
— Jonathan M. Rothberg, Founder, Hyperfine
Our reason—democratizing healthcare.
From remote communities in the United States to entire countries in Sub-Saharan Africa, over 90% of the world lacks access to magnetic resonance imaging (MRI), one of the safest medical imaging modalities available1. By taking advantage of advances in computing power and artificial intelligence, we have invented a low-field MR imaging device that is affordable, portable, and can provide diagnostic neuroimaging at a patient's bedside.
Video
The Swoop system and Raising Malawi.
"We refuse to accept barriers to equitable care, and we intend to make the previously impossible possible by delivering MR imaging to the patient, wherever the patient is."
— Jonathan M. Rothberg, Founder, Hyperfine
We work closely with various charitable foundations in over ten global limited-resource countries with the ultimate goal of democratizing access to MR imaging. We are looking for partners who want to work with us to use the Swoop® Portable MR Imaging System™ to create a positive impact in areas with limited access to MR imaging.
Join the effort. Please fill out the form below if you want to work with us to enable access to MRI in underserved regions globally.

* required field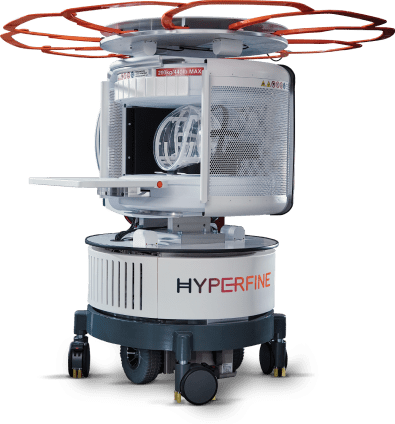 Big tech in a small package.
The Hyperfine Swoop system is the only portable MRI that can move to your patient's bedside at the point of care, plug into a standard electrical outlet, and acquire critical neuroimages within minutes. No waiting. No patient transport.