The Swoop® Portable MR Imaging System™ and children.
Video
Swoop in Pediatric Facilities
What to expect during your child's scan.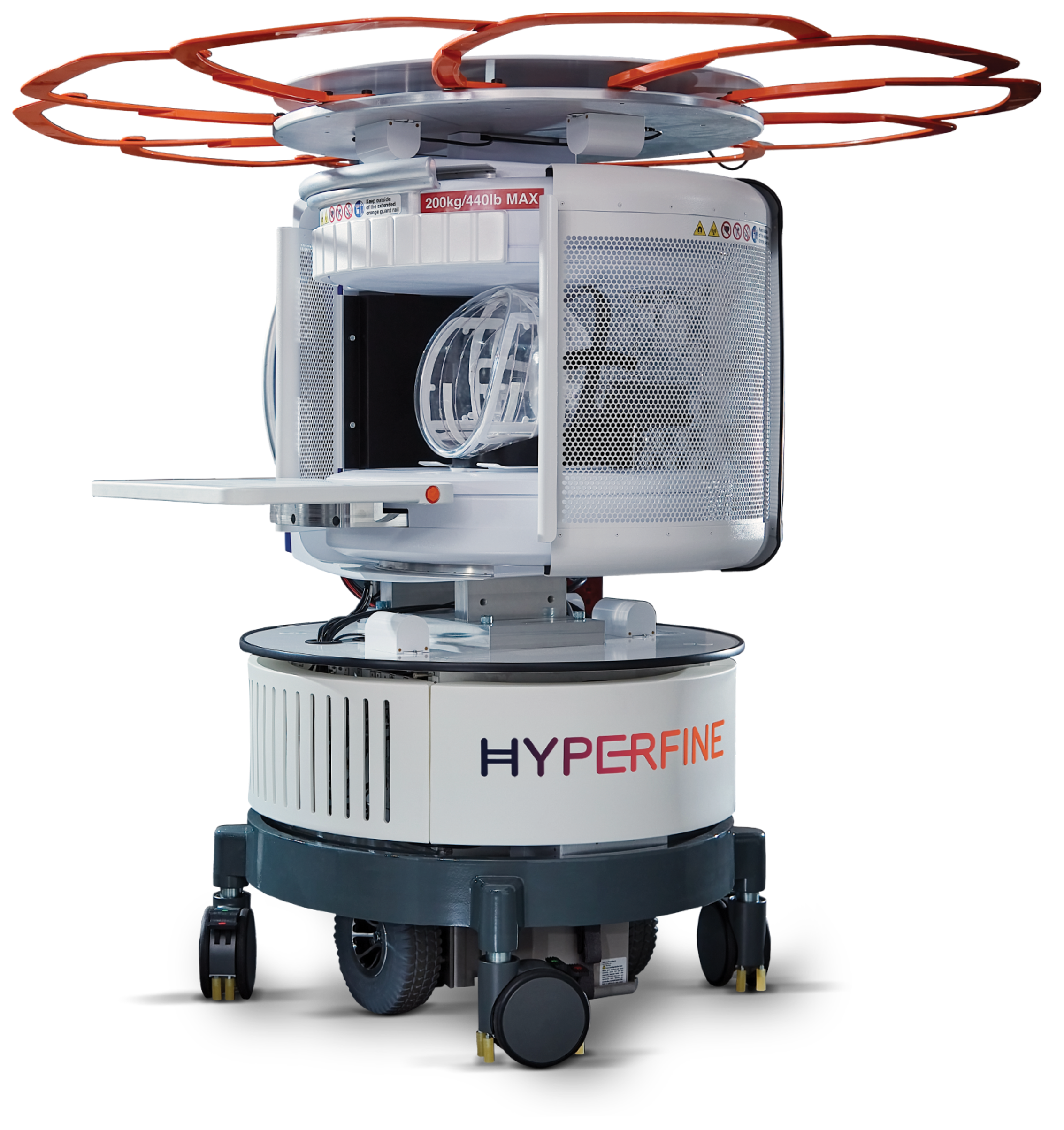 The Swoop system is a noninvasive, patient-friendly magnetic resonance imaging (MRI) system used at a patient's bedside to take pictures of their brain, which doctors use to diagnose various medical conditions.
An MR examination with Swoop is entirely noninvasive. Your child will only need to remove items on or around their head and neck (including jewelry: earrings, necklaces, hair accessories, headphones, earbuds, and the like). Acoustic noise from the Swoop system is substantially lower than what is heard in a conventional MRI system. And, because noise levels are low, hearing protection is optional. Additionally, because of the open design and low magnetic field of the Swoop system, you can stay right at your child's bedside—and even hold their hand.
After the Swoop system is set up, your child will stay in their bed the entire time with their head resting in the transparent 'helmet' inside the Swoop system. There will be rhythmic tones resulting from vibrations as the system acquires images during the scan. Depending on the scan sequences selected by the physician, the scan may take around thirty minutes (although it could be shorter).
After the exam, clinicians may remove the Swoop system from your child's room. After reviewing the images, a doctor will discuss the results with you and recommend the next steps.
The benefit of the Swoop system for pediatric hydrocephalus care.
If your child needs neuroimaging and the hospital has a Swoop system, clinicians can bring the benefits of MRI for pediatric hydrocephalus care to your child's bedside, sparing them from the ionizing radiation from a CT scan while allowing you to remain with them. What's more, if your child has difficulty staying still, with its Fast T2 sequence (which takes less than three minutes), the Swoop system potentially reduces the need to sedate your child for neuroimaging1.
1. Barkovich, M. J., Xu, D., Desikan, R. S., Williams, C., & Barkovich, A. J. (2018). Pediatric neuro MRI: tricks to minimize sedation. Pediatric radiology, 48(1), 50–55. https://doi.org/10.1007/s00247-017-3785-1