Swoop® Portable MR Imaging System™
Details and specifications.
What does a portable MR imaging machine look like?
1 and 2. Tablet Controller. A 12.9-inch Apple iPad® (included) makes exam setup, scan initiation, and image export simple.
3. Power Supply. The Swoop system plugs into a standard wall outlet and is ready to scan in less than two minutes. Astonishingly efficient, the system uses just 900 watts, about the same power as a coffee maker.
4. Gauss Guard. The system assures safety with a convenient 5-gauss-line guard that quickly expands and contracts.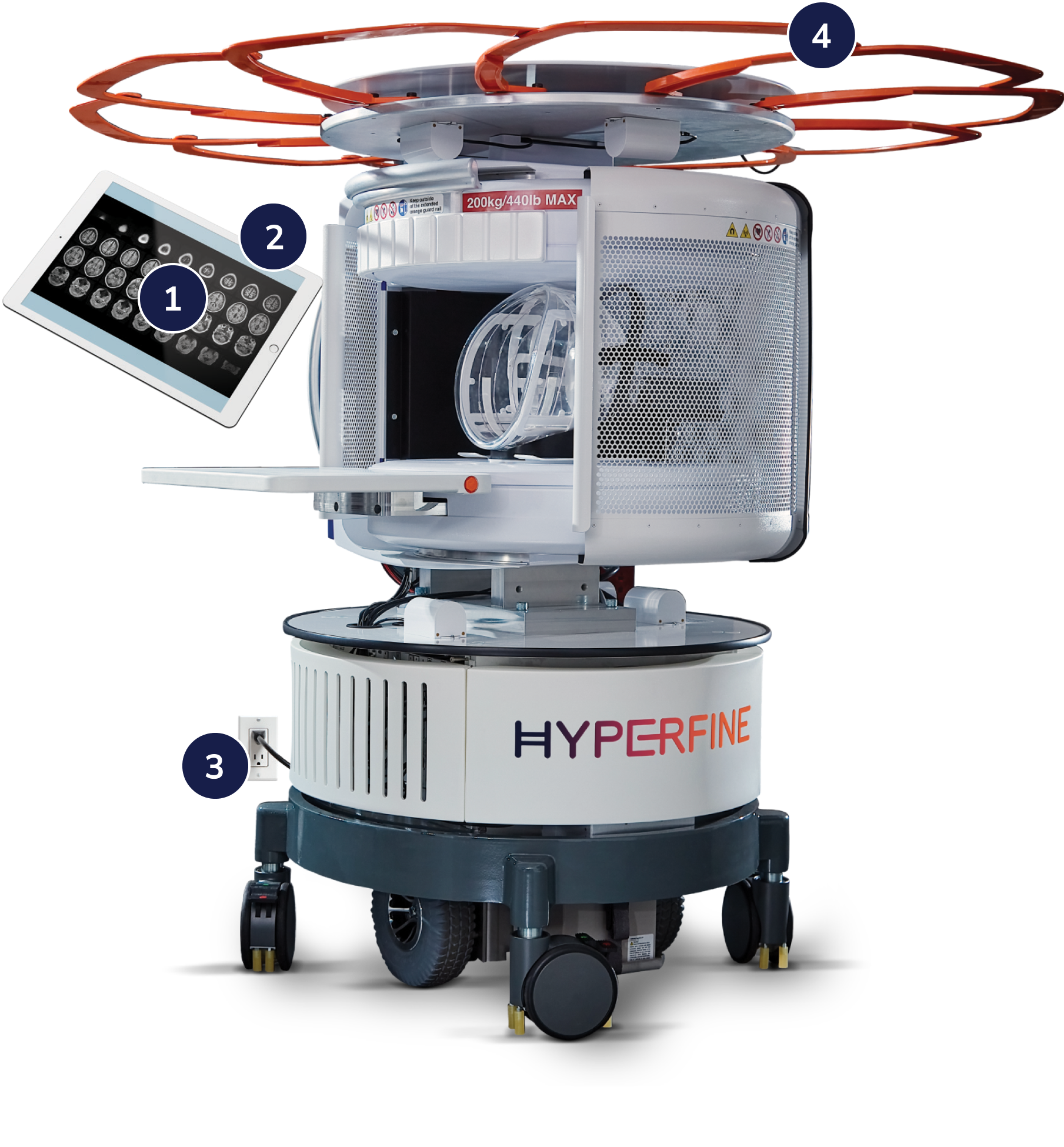 5. Transfer Bridge. The transfer bridge unfolds for easy bedside patient loading. Fold the bridge back up to move the system to your next patient.
6. Shield Door and Sensors. Operation requires no external shielding with built-in continuous 'noise cancellation' of electromagnetic interference and the specific design of our aluminum screen.
7. Head Coil. A multi-channel removable head coil comes encased in clear, durable, and easy-to-disinfect polycarbonate plastic.

8. Casters and Joystick. The Swoop system easily moves between patients, courtesy of a joystick and powered drive wheels.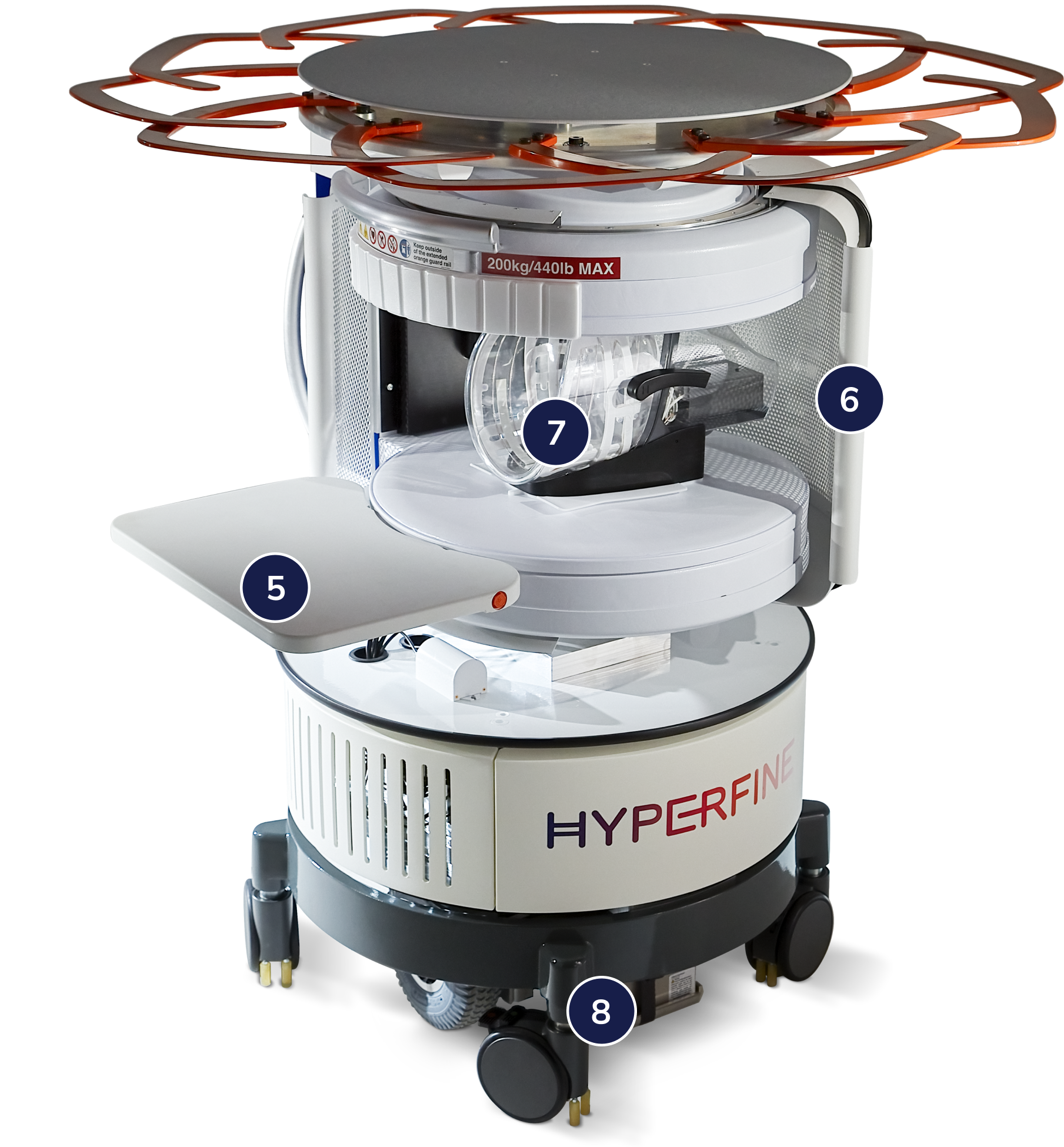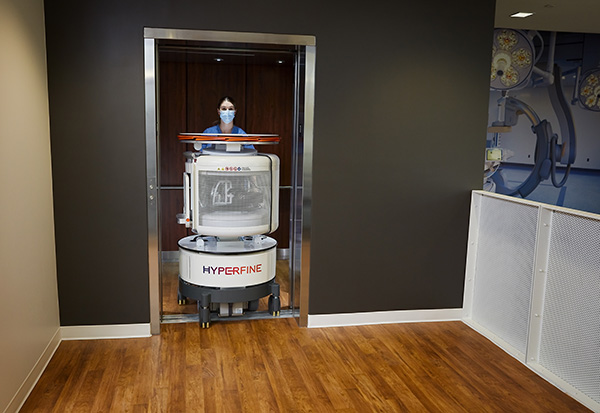 The Swoop Portable MR Imaging System can go nearly anywhere in healthcare facilities. Compact and highly portable, the Swoop system is ideal for neuroimaging in intensive care units and pediatric facilities.
The Swoop magnet is 64 mT. The system stands 59-inches tall and 33-inches wide and weighs 1,400 pounds. Imaging sequences include T1, T2, FLAIR, and DWI (with ADC map)—all directed by an iPad® interface.
Point-of-Care MRI Applications
click to open link

Portable MR imaging in ICUs.
A Swoop system in an intensive care unit enables timely neuroimaging at the point of care, eliminates the need to transport critically ill patients to radiology, and reduces the time required to coordinate clinical schedules and support staff.
click to open link

Portable MR imaging in pediatric facilities.
An open and safe design allows family members to stay close, provide comfort during neuroimaging, and even hold their loved one's hand. The Swoop system also eliminates the risk of ionizing radiation for pediatric patients—a concern with CT imaging.
click to open link

Where to find the Swoop Portable MR Imaging System.
Medical professionals use the Swoop Portable MR Imaging System at facilities worldwide. Find one near you.